CGIAR-IITA and the Eastern Africa Grain Council (EAGC) have signed a memorandum of understanding (MoU) to work together to tackle aflatoxin contamination of grain in the region. Achieving this will ensure that grains are safe for human and livestock consumption and meet export standards.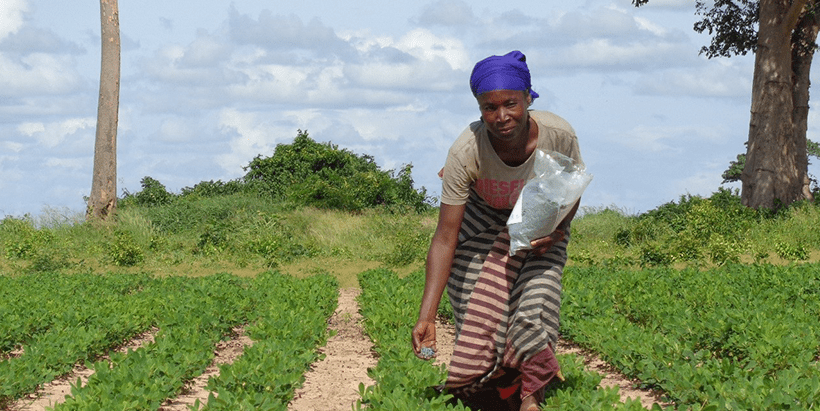 Aflatoxin, a highly poisonous chemical produced by a naturally occurring fungus known as Aspergillus flavus, poses a severe health threat to both humans and animals. Acute poisoning from consuming foods with too high levels of aflatoxin can lead to instant death. Chronic long-term exposure from consuming foods with above–the–allowable safe levels can result in lowered immunity, low birth weight, and irreversible stunting in children. People exposed to aflatoxin can also develop liver cancer.  
Because of the health risks, aflatoxin also causes a loss in trade revenues when products fail to meet the required standards. According to the Partnership for Aflatoxin Control in Africa (PACA), Africa loses an estimated US$670 million in rejected export trade annually due to contamination by aflatoxin.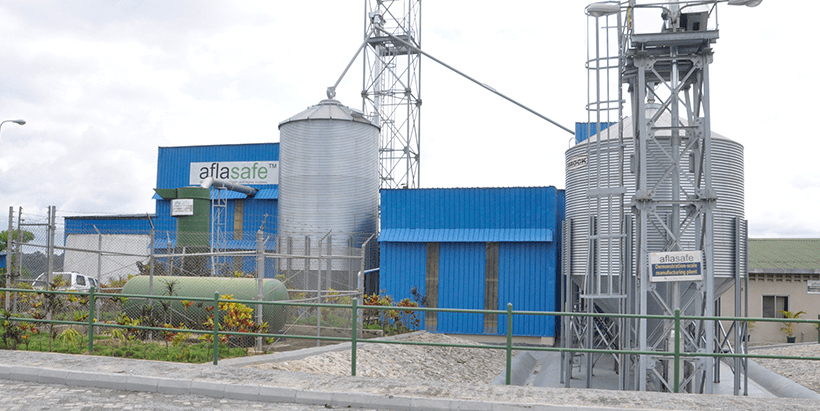 In the MoU, IITA and EAGC, a membership organization that brings together key players across the grain value chain in Eastern and Southern Africa, will promote best practices and proven technologies to manage aflatoxin. This integrated aflatoxin management strategy includes promoting the use of Aflasafe™, an innovative, safe, and natural product that substantially reduces aflatoxin contamination in maize and groundnut.  
The technology, initially developed by the United States Department of Agriculture – Agricultural Research Service (USDA-ARS), is used widely in the US. IITA, in partnership with the USDA, has successfully adapted this technology for use in many countries in Africa.  
"Aflatoxin contamination is a serious food safety issue in sub-Saharan Africa and also a major impediment to trade. We are therefore excited about this partnership with EACG that will, among others, support efforts to create awareness on aflatoxin and mitigation strategies," said Kenton Dashiell, IITA Deputy Director General for Partnerships for Delivery at the virtual signing of the MoU. 
Dashiell stated that the collaboration would help towards the realization of our vision for an aflatoxin-free, food-secure Africa. 
EAGC is identifying best practices in food safety and quality control among grain value chain actors to increase their potential grain trade within and between African countries.
The EAGC Executive Director, Gerald Masila, remarked: "By reducing aflatoxin contamination in grains to safe levels, Africa could meet international food safety standards, thereby creating a huge opportunity for an increase in grain export potential." 
The MoU will leverage each organization's strengths to promote cooperation in the areas of advocacy, research, capacity development, and awareness creation. This collaboration would also promote the implementation of EAC staple food standards and mobilize resources to attain and manage aflatoxin standards. Signing the MoU intends to increase knowledge and experience sharing to maximize the desired outcomes.  
IITA has registered 14 Aflasafe™ products for commercial use in 10 countries (Burkina Faso, Ghana, Kenya, Malawi, Mozambique, Nigeria, Senegal, Tanzania, The Gambia, and Zambia). The Institute has transferred these products to private sector partners for scale-up and is continuing to develop products in 12 other countries. 
HEADLINES YOU MIGHT HAVE MISSED FROM BRAND SPUR
Waltersmith Refinery Ready for October Start
Waltersmith Petroman's modular refinery has been completed and will begin operations on October 14, the Nigerian Content Development and Monitoring Board (NCDMB) has said.
How TikTok Changed Video Advertising Forever?
Owning a business brand isn't all required to make it big in the business world – it's just the first step. To achieve business growth, you'd have to invest in activities that improve the quality of your products and services and make potential buyers aware that you have what they need.
Olam Cocoa launches new business for professional chefs, bakers and pâtissiers
Olam Cocoa has today announced the launch of Olam Cocoa for Professionals, a new business which will make its premium deZaan cocoa powders available to restaurants, caterers, and patisseries for the first time.
7Up danced into COVID-19 with 2Sure hand sanitizers with same bottle
7Up bottling company is one of the leading trademarks that deals with beverages. It produces and distributes carbonated soft drinks such as 7up, Mirinda, Pepsi, Teem, Mountain Dew, H2oH!, Lipton Ice Tea and Aquafina premium drinking water.
Netflix ignores critics to release 'Cuties' movie revealed to be promoting children sex
Netflix, an American technology and media services provider and production company headquartered in Los Gatos, California, founded in 1997 by Reed Hastings.
Total Debt Stock Hits N31.01 Trillion as Nigeria Receives USD3.36 Billion Loan from IMF
In the just concluded week, total debt figure released by the Debt Management Office (DMO) showed that Nigeria's total public debt stock for the second quarter of 2020 increased by 8.31% to N31.01 trillion as at June 2020 (from N28.63 trillion as at March 2020).