The home improvement sector was among the few bright spots in the US economy in 2020. According to the research data analyzed and published by ComprarAcciones.com, product sales in the space rose by 8.7% year-over-year (YoY) to $440 billion.
It is interesting to note that prior economic recessions were not as kind to the market. For instance, during the 2008/2009 recession, the sector experienced three years of declines in consumer spending. As a result, the industry posted double-digit losses.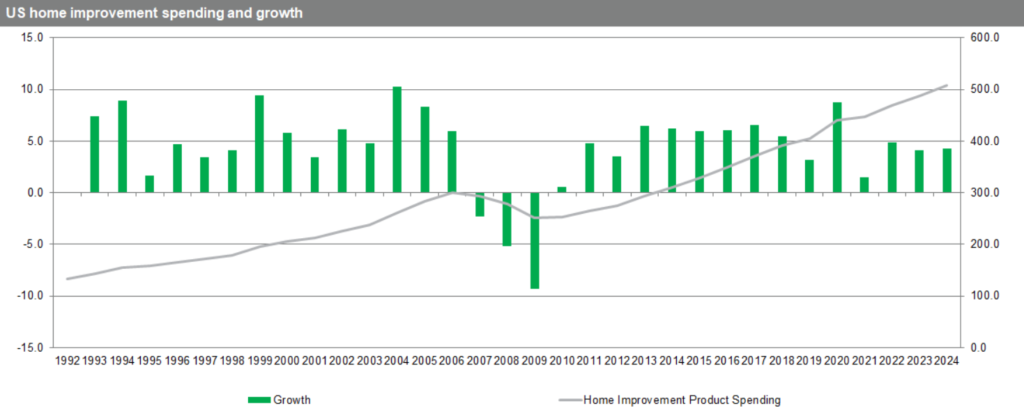 Regardless of supply chain bottlenecks and other challenges, some businesses in the US home improvement market thrived in 2020. For top players in the space, the year of uncertainty culminated in a market-beating Q4.
The top three home improvement chains in the US sold goods worth a cumulative $54.67 billion in the three-month period. Comparatively, their collective sales for a similar period in 2019 amounted to $41.88 billion.
Home Depot, the largest store chain in US home improvement, beat analyst estimates during the period courtesy of a 25% YoY gain in sales. The growth drove revenue up from $25.78 billion in Q4 2019 to $32.26 billion in Q4 2020. In the US market alone, same-store sales shot up by 25%. Overall, the company posted a 24.5% increase in same-store sales against an expected 19.2% according to Street Account analysts.
Home Depot's net income soared to $2.86 billion, equivalent to $2.56 per share. That was a significant increase from the previous year's $2.48 billion ($2.28 per share). It was also slightly higher than Refinitiv's estimate of $2.62 per share.
Average purchase per customer rose by 11% YoY to $75.69 while sales per square foot surged by 24% to $528.01. Transactions worth more than $1,000 similarly rose by 23% YoY.
Digital sales increased by 83% in Q4, and by 86% for the full year. About 60% of online sales during the year were fulfilled through the store. For the full year, Home Depot posted an increase of 20% in net sales to $132.1 billion.
Lowe's Net Sales Rose by 28% to $20.31 Billion, Ace Hardware's Up by 39.2% to $2.1 Billion
Lowe's, which ranks second in the sector, had an equally impressive quarter, reporting an increase of 28.1% in same-store sales. Street Account analysts had projected a 22% rise.
Its net sales grew to $20.31 billion against an expected $19.48 billion. Net income nearly doubled, from $509 million (66 cents per share) to $978 million ($1.32 per share). That was higher than Refinitiv analysts' estimated $1.21 per share.
There was also an increase of 16% in all its merchandising departments and a 19% jump in all regions of the US. Online sales shot up by a remarkable 121%. During the quarter, online sales and sales at US stores that had been open for at least a year grew incrementally each month. They rose from 23.8% in November to 28% in December and 35.7% in January 2021. For the full year 2020, net sales totaled $89.6 billion.
On the other hand, Ace Hardware, the third largest US home improvement chain, also posted record revenue in Q4 2020. Following an increase of 39.2% YoY, its total sales reached $2.1 billion. Net income rose by $39.6 million to reach $43.1 million as US same-store sales shot up by 28.7%.
For the full year, Ace Hardware's revenue rose to $7.8 billion, up 27.9% from $6.1 billion in 2019. Net income jumped 125.7% to 316.9 million. There was an increase of 25.9% in same-store sales, 14.7% in average transaction size and 272% in online sales.
Home Improvement Sales to Rise by 4.1% in Q1 2021, Dropping to 1.7% by Q3 2021
According to research data by Harvard University, annual spending on home renovation and repair is set to increase by 4.1% in Q1 2021. However, by Q3 2021, growth is projected to taper off to about 1.7%.
Annual expenditure on home renovations and repair is expected to increase from $332 billion to $337 billion by the second half of the year.
Based on a survey carried out by Lowe's in December 2020, 40% of consumers said they had started a hobby in home improvement. Around 59% said that they planned to continue spending some money that they used to spend on other things prior to the pandemic on home improvement.
Notably though, Lowe's cautioned that demand would gradually taper off, resulting in total annual sales of $86 billion in 2021. Admittedly, the big numbers industry players posted during the pandemic could lead to tough comparisons in coming quarters.
However, Home Depot pointed to a potential increase in purchases by larger pro customers. Pros account for 45% of Home Depot's sales compared to Lowe's 20% to 25%.