Live Election Updates and Presidential Election Results across 36 States and FCT can be accessed on BrandSpur Nigeria.
Nigerians will today, Saturday, February 25, 2023, decide their next President for the next four years.
This reliable online newspaper understands that the main contenders in terms of political parties are the All Progressives Congress, (APC), the Peoples Democratic Party, (PDP), the Labour Party, (LP,) and the New Nigerian Peoples Party, (NNPP).
Bola Ahmed Tinubu is the presidential candidate of the ruling APC, Alhaji Atiku Abubakar is flying the flag of the PDP, former Anambra State Governor, Peter Obi is the candidate of the LP, while Rabiu Kwankwaso is the NNPP's standard bearer.
Other presidential candidates, according to INEC's final list, include:
Imumolen Christopher – Accord Party (AP); Al-Mustapha Hamza – Action Alliance (AA); Sowore Omoyele – African Action Congress (AAC); Kachikwu Dumebi – African Democratic Congress (ADC); Sani Yabagi Yusuf – Action Democratic Party (ADP); Umeadi Peter Nnanna – All Progressives Grand Alliance (APGA); Ojei Princess Chichi – Allied People's Movement (APM); Nnamdi Charles Osita – Action Peoples Party (APP); Adenuga Sunday Oluwafemi – Boot Party (BP); Osakwe Felix Johnson – National Rescue Movement (NRM).
Others are: Abiola Latifu Kolawole – Peoples Redemption Party (PRP); Adebayo Adewole Ebenezer – Social Democratic Party (SDP); Ado-Ibrahim Abdumalik – Young Progressives Party (YPP); and Nwanyanwu Daniel Daberechukwu – Zenith Labour Party (ZLP).
Today's presidential election is widely believed to be between three candidates, namely: Peter Obi, Atiku Abubakar and Bola Tinubu.
In his nationwide broadcast, President Muhammadu Buhari, who is serving a complete eight-year term under the APC, admonished the citizens to go out there and vote for their very choice of candidate.
He also said that his administration's new monetary policy had also contributed immensely to the minimization of the influence of money in politics.
"This is a positive departure from the past and represents a bold legacy step by this administration, towards laying a strong foundation for free and fair elections," he said, assuring that every vote will count.
Follow this thread as BrandSpur Nigeria brings you live updates on the presidential election from the 36 states of the federation and the Federal Capital Territory FCT).
Live Updates, Presidential Election Results Across 36 States, FCT:
Stick with BrandSpur Nigeria as we bring you live updates from the polls held across Nigeria…
Gov. Akeredolu casting his vote in Owo to cast his vote
12:40 pm: Wike votes as BVAS resumes work in Rivers
Governor Nyesom Wike has cast his vote at polling unit 7, Ward 9, Wimpey Junction, Rumuepirikom, Port Harcourt, Rivers State, as the Bimodal Voter Accreditation System machine resumed operations.
APC Agent Caught Threatening Voters Who Won't Vote APC
APC agent caught on camera threatening voters who won't vote APC to go home.

Location: Fehintola Giwa Street Aguda, Surulere, Lagos state.#NigeriaElections2023
pic.twitter.com/wvlgitJuQ4

— Rinu Oduala 🔥🔫 (@SavvyRinu) February 25, 2023
10:15 am: Governor of Lagos State, Mr. Babajide Sanwo-Olu, and his Wife, Dr. Mrs Ibijoke Sanwo-Olu arrived at his Polling Unit, Ward E3 …. St Stephen Primary School, Adeniji Adele Road Lagos Island to cast their vote.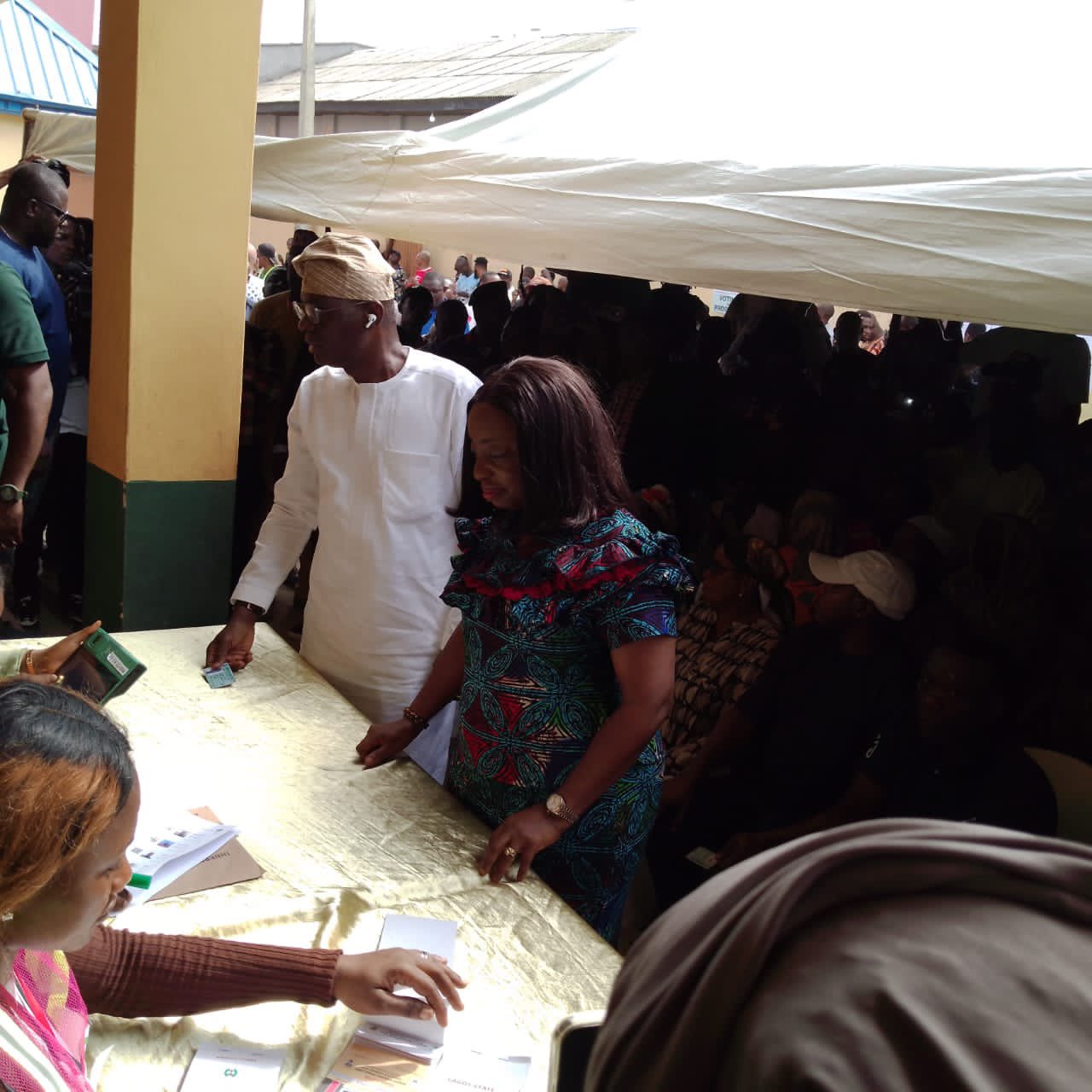 10:28 am: The presidential candidate of the Labour Party, (LP) Peter Obi has arrived in PU 019, Umudimakasi Square, Agulu, Anambra State, for the presidential election.
10:00 am: President Muhammadu Buhari and his wife Aisha have cast their vote in the ongoing presidential and national assembly elections.
He cast his vote at Sarkin Yara A Kofar Baru 01/003 polling unit. The President arrived at his polling unit alongside his wife, Aisha Buhari, and other entourage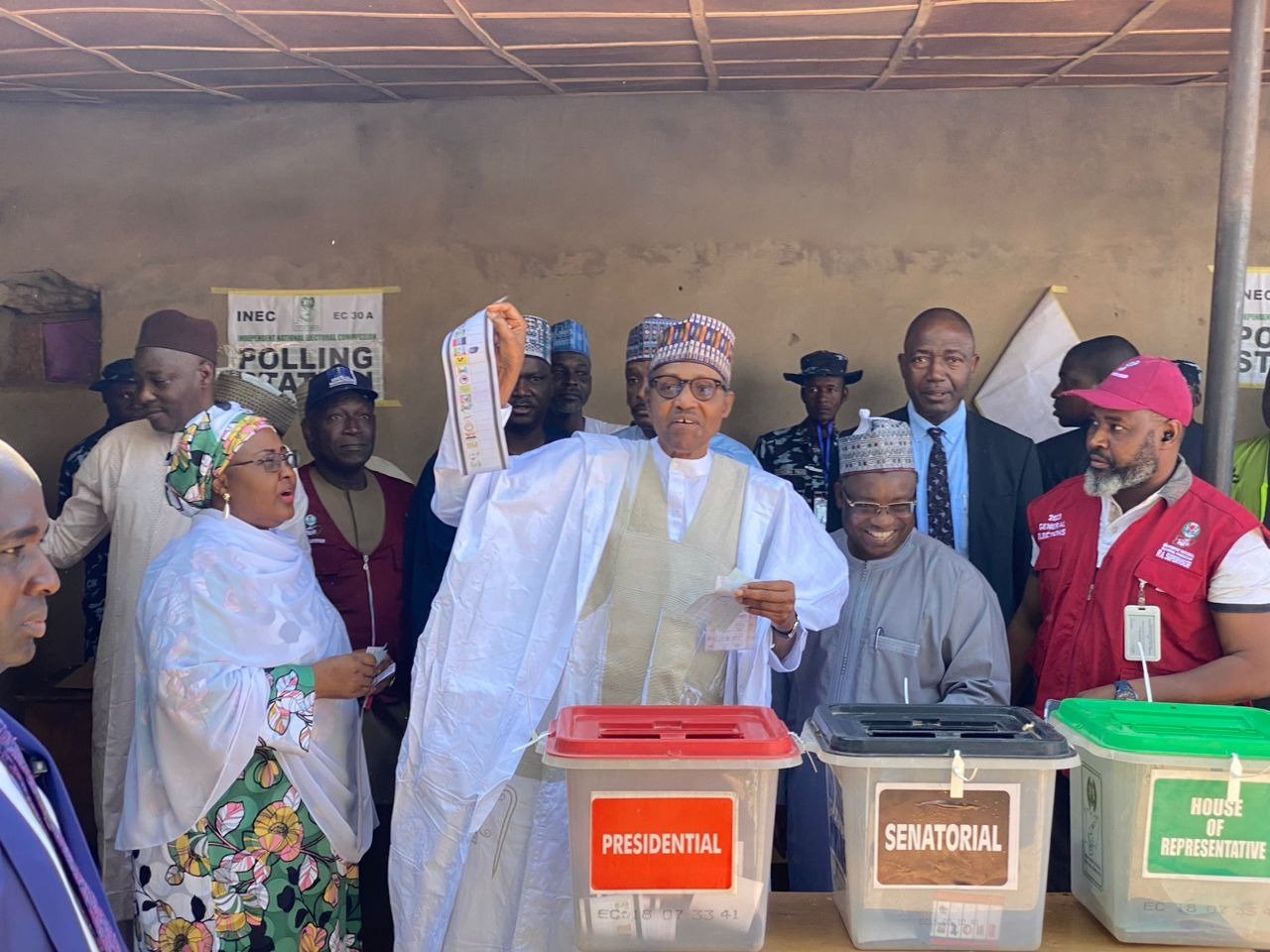 07:13: Presiding officers are on ground and Voters are already checking their Names in Polling Unit 40, Ward 3, Osogbo LGA, Osun State.
6:55 am: Voters have started arriving at Polling Unit 123 Sunnyvale Estate, Abuja Municipal Area Council of the nation's capital.
7:39 am: Voters at Ward 003, Gado-Nasko Primary School, Gwagwalada LGA, Abuja checking the INEC register to confirm their names and polling units.
Expectations High As FCT Residents In Kubwa Throng Polling Units Early
Voters in Kubwa, a satellite town in Abuja, trooped out early to their units on Saturday, in preparation for the Presidential and National Assembly elections.
While officials of the Independent National Electoral Commission (INEC) were yet to report at the polling units, scores of voters were already gathered with few security personnel observing.
At the polling unit in Queen Amina Street, Phase II, site II (2:2), PW and Police Estate, hundreds of voters were seen as early as 7:30 a.m.
Some of the voters who spoke expressed hope in the electoral system, while urging Nigerians to conduct themselves peacefully.
According to one voter, Lateef Taiwo, it is advisable to come early because the poling units are usually crowded.
He urged voters to maintain peace, while calling on the electoral officers to ensure that the process is fair and credible.
Another voter, Kingsley Okoro, also called for a peaceful process while urging Nigerians to make the right choice in the interest of the country.
According to Japhet Opara, another voter, it is a civic duty to participate in the elections and ensure that the process is credible.
"I advise the electorates to be calm, though I believe that this election will not be violent in any way.
"The process as initiated by INEC seems easy when compared to other elections," he said.
Amaka Agbalize, another voter in Kubwa, said that the election is well organised.
"I just picked number, which is 250. I am optimistic that my vote will count.
"I advised the electorate to coordinate themselves and obey the security personnel, so that things can move on smoothly," she said.
It was observed that there is a free vehicular movement within Kubwa in spite of the movement restriction that comes with elections.
INEC has said there are a total of 93,469,008 eligible voters in its voters register after the final cleanup that includes the removal of double registration and underage voters.
The Commission said the FCT has 1,570,307 registered voters.
This figure, the commission said, was arrived at after the review of 54,264 objections raised by Nigerians following the initial display of the voter register on its website in November 2022.
INEC Chairman, Mahmood Yakubu, said the total number of eligible voters rose by 9,464,924 or 11.3 per cent from the 84,004,084 recorded in the 2019 general elections to 93,469,008 eligible voters in 2023.
Mr Yakubu said 49,054,162 or 52.5 per cent of the total voters are male, while the remaining 44,414,846 or 47.5 per cent are female voters.
He added that 37,060,399 or 39.65 per cent of voters are between the ages of 18 and 34; while 33,413,591 or 35.75 per cent are middle-aged persons between the ages of 35 and 49.
The INEC chairman also said 17,700,270 or 18.94 per cent of the total registered voters are elderly voters between the ages of 50 and 69, just as the remaining 5,294,748 or 5.66 per cent are senior citizens above the age of 70.
He further revealed that students make up the largest category at 26,027,481 or 27.8 per cent of all registered voters, in terms of occupational distribution.
INEC published list contains names of candidates validly nominated for national elections at the close of the parties' primaries and the period earmarked for the withdrawal and substitution of candidates.
Names of the presidential candidates of the African Action Congress (AAC), Peoples Democratic Party (PDP), All Progressives Congress (APC), Labour Party, and New Nigeria Peoples Party (NNPP), Omoyele Sowore, Atiku Abubakar, Bola Tinubu, Peter Obi, and Rabiu Kwankwaso respectively are on the final list.
Other presidential candidates on the list include Daberechukwu Nwanyanwu, presidential candidate of Zenith Labour Party (ZLP) and his running mate, Ramalan Abubakar; Dumebi Kachikwu, presidential candidate, African Democratic Congress (ADC) and his running mate, Ahmed Mani.
Other names include Senator Godswill Akpabio from Akwa Ibom state, Senator Peter Nwaobishi of Delta State and Bashir Machina, who will replace the Senate President, Ahmad Lawan in the National Assembly.
The publication of the final list of candidates for national elections (presidential, senatorial and federal constituencies) is in accordance with section 32(1) of the Electoral Act 2022 and item 8 of the Timetable and Schedule of Activities for the 2023 General Elections.
(NAN)
8:07 am: Election materials arrive at Tarauni local government in Kano State.
8.22 am: Electoral officials under Kwali Central Registration Area Centers are unable to deploy to their polling units due to unavailability of transportation.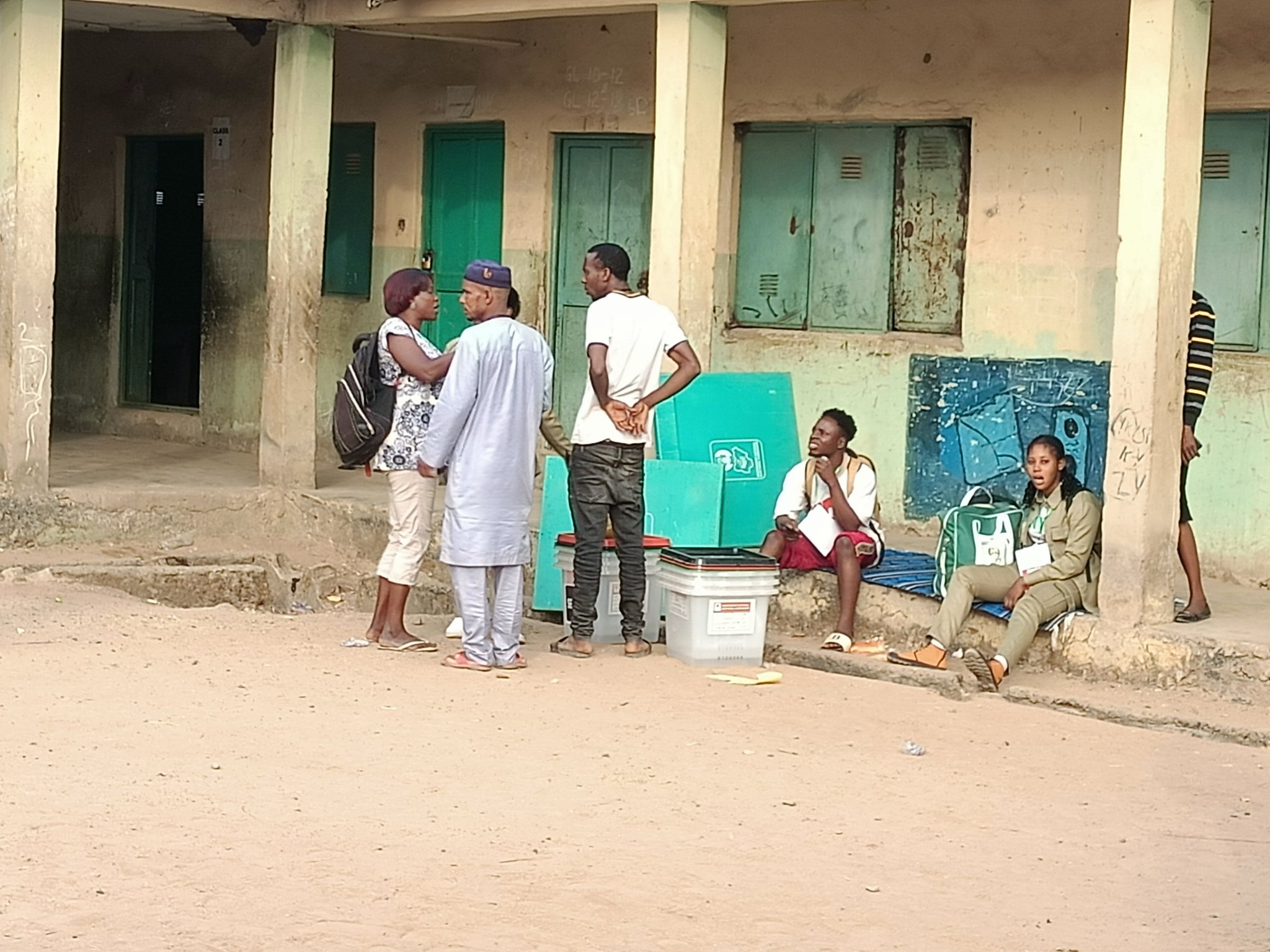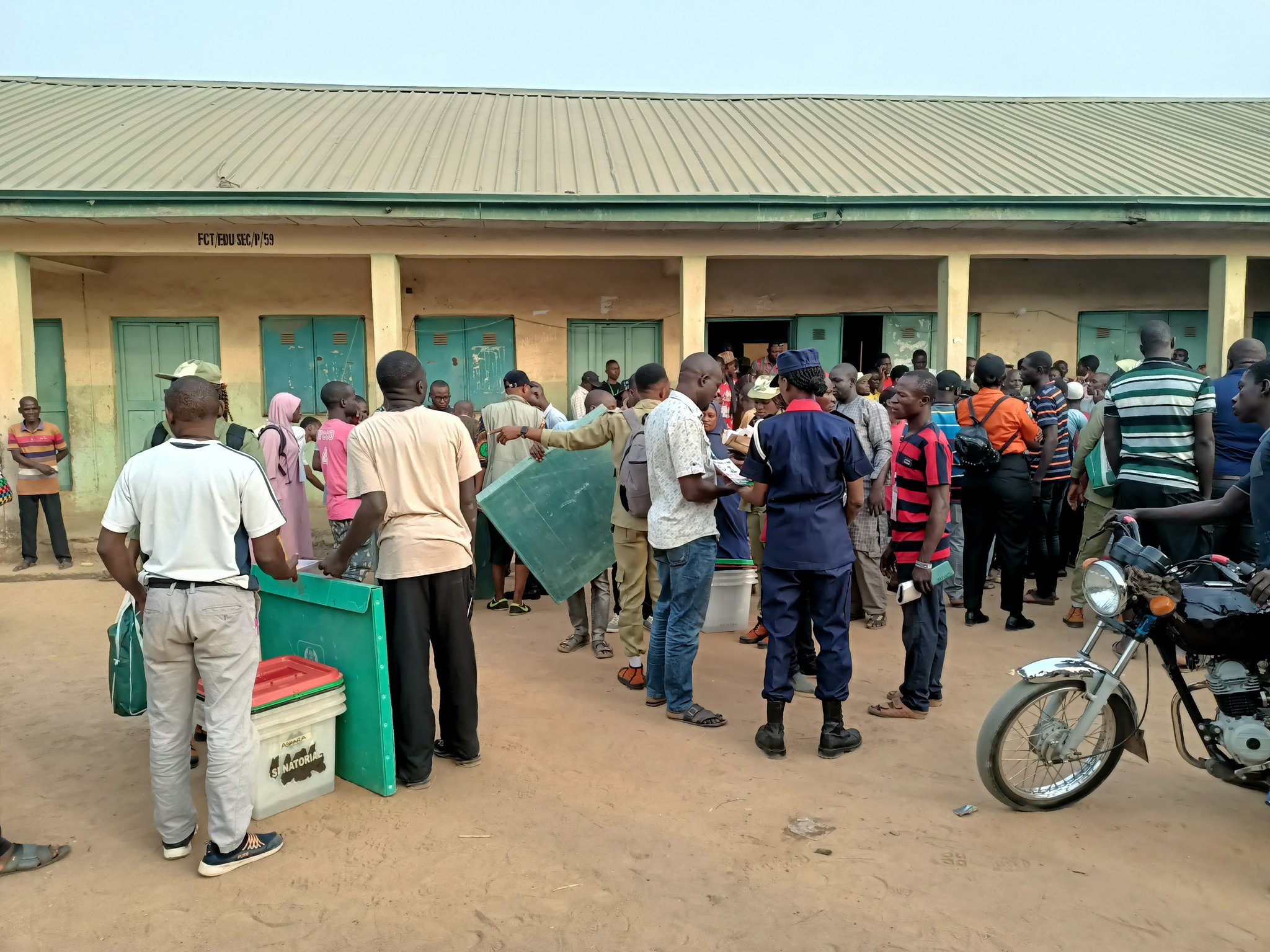 8.30 am: Electoral officials and security agents in Kwali Central ward awaiting transportation to their polling units.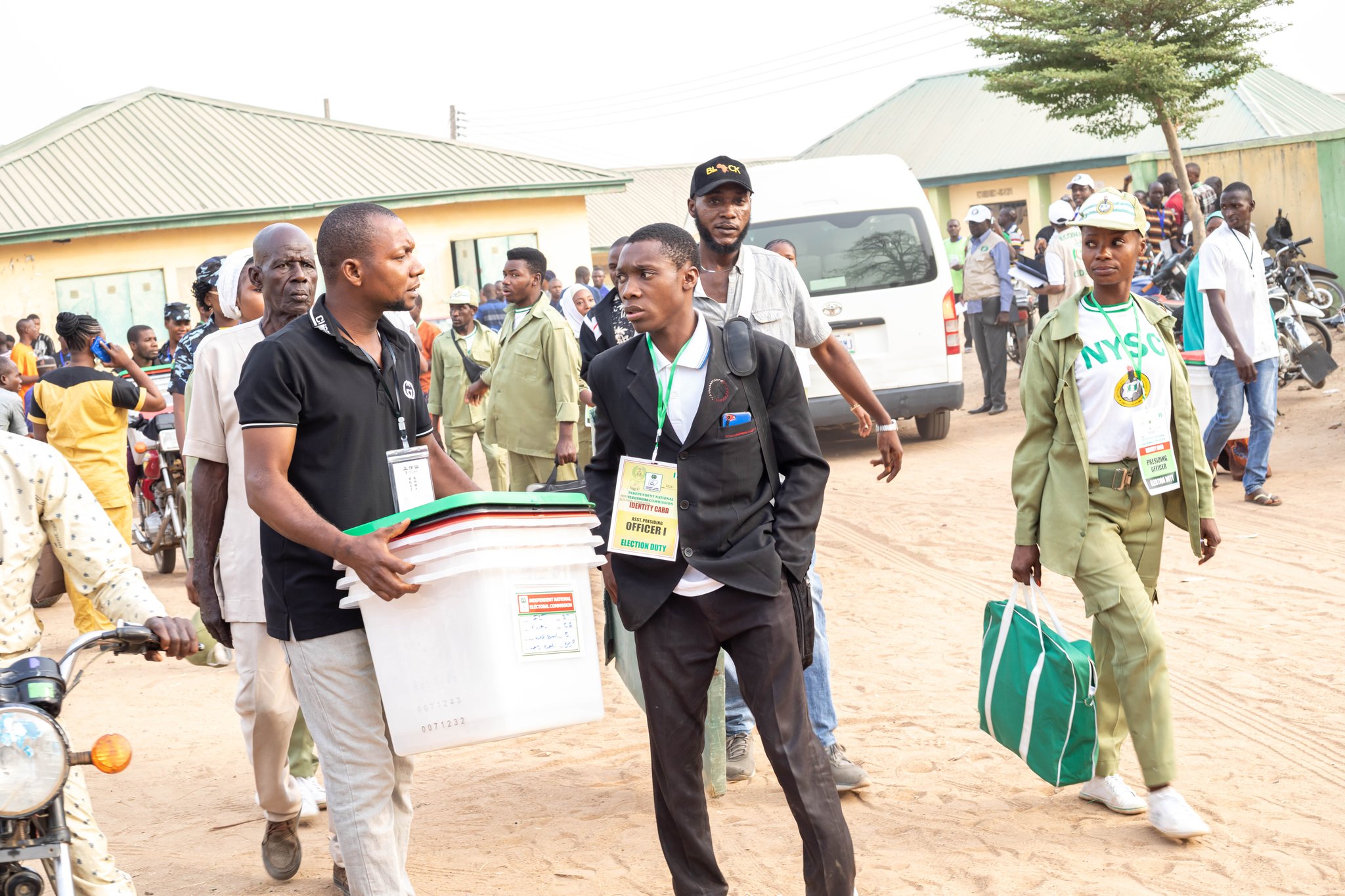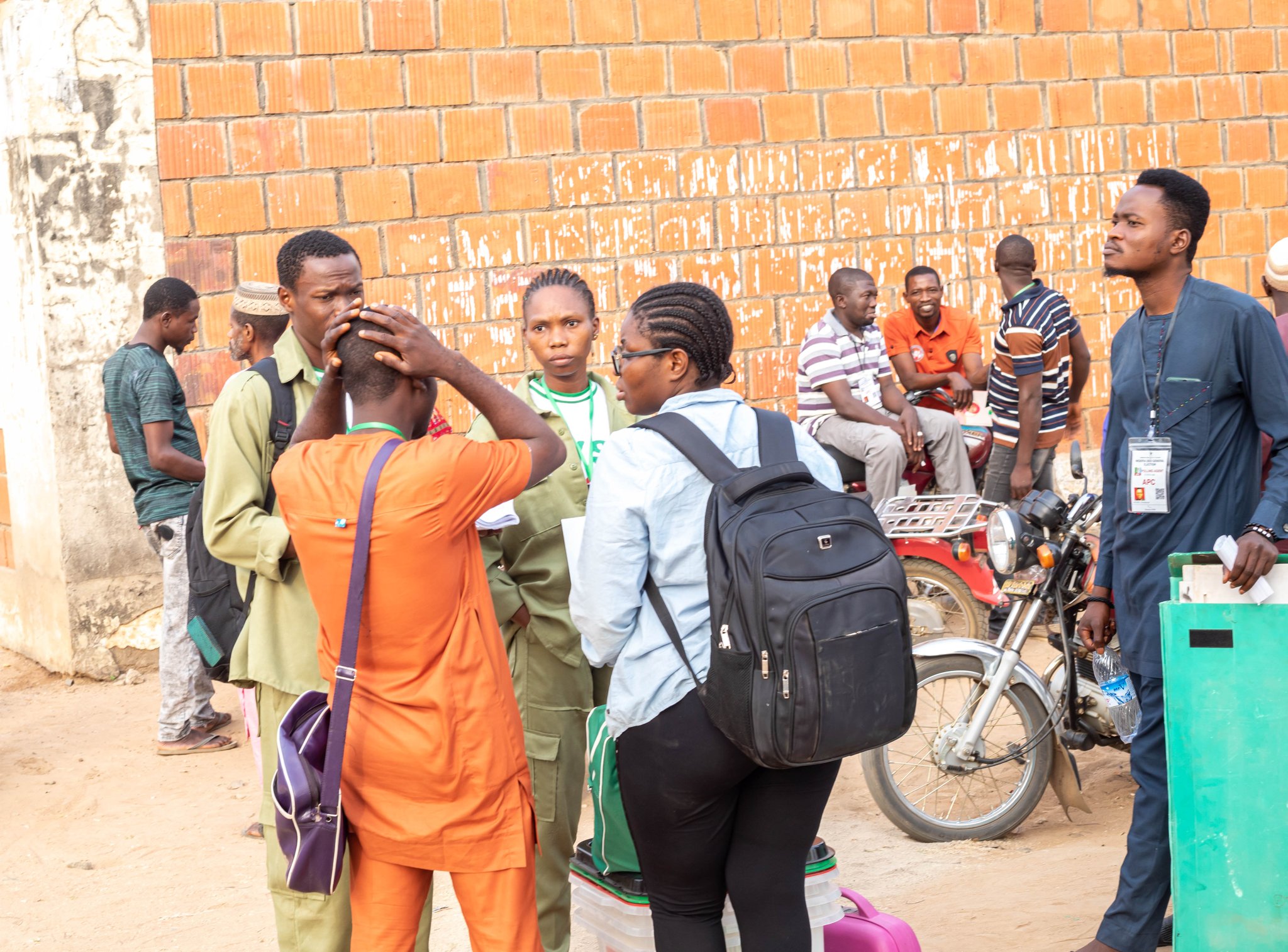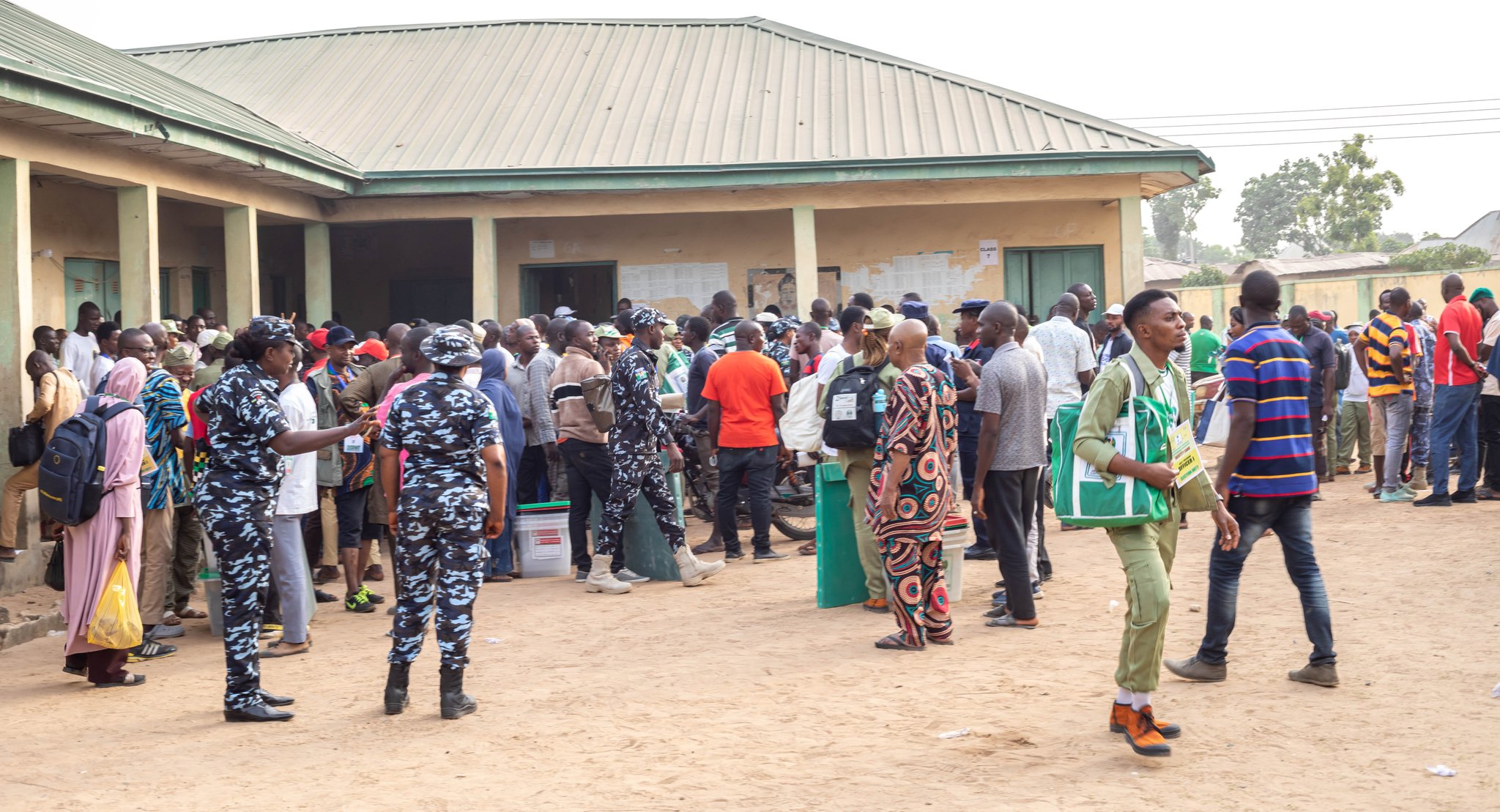 8:44 am: Election officials at Kwali Central ward off to the polling unit!
Off to the Polling Unit! Live pictures from Kwali Central ward.#WatchingTheVote #NigeriaDecides2023 pic.twitter.com/wAegrP5gfb

— Yiaga Africa (@YIAGA) February 25, 2023
8:40 am: Corps members at Ikeja rack center – St. Peter's Anglican Primary School, Alausa waiting for deployment.
8:57 am: INEC officials arriving at polling unit, 142, Olaniyi Junction, Ojokoro.
8: 58am: Electorates checking their names on the voters' list at Area 10, Abuja
A voter getting accredited at Polling Unit 002, Yaya Gusau Primary School, Sokoto
9:12 am: Wife of Presidential candidate of All Progressives Congress, (APC) senator Remi Tinubu arrives polling unit in Falomo, Lagos to vote.
9:12 am: Presidential of the Peoples Decmocractic Party (PDP) Atiku Abubakar just cast his ballot, with his wife, Titi, at his Polling Unit 012, Ajiya ward in Yola.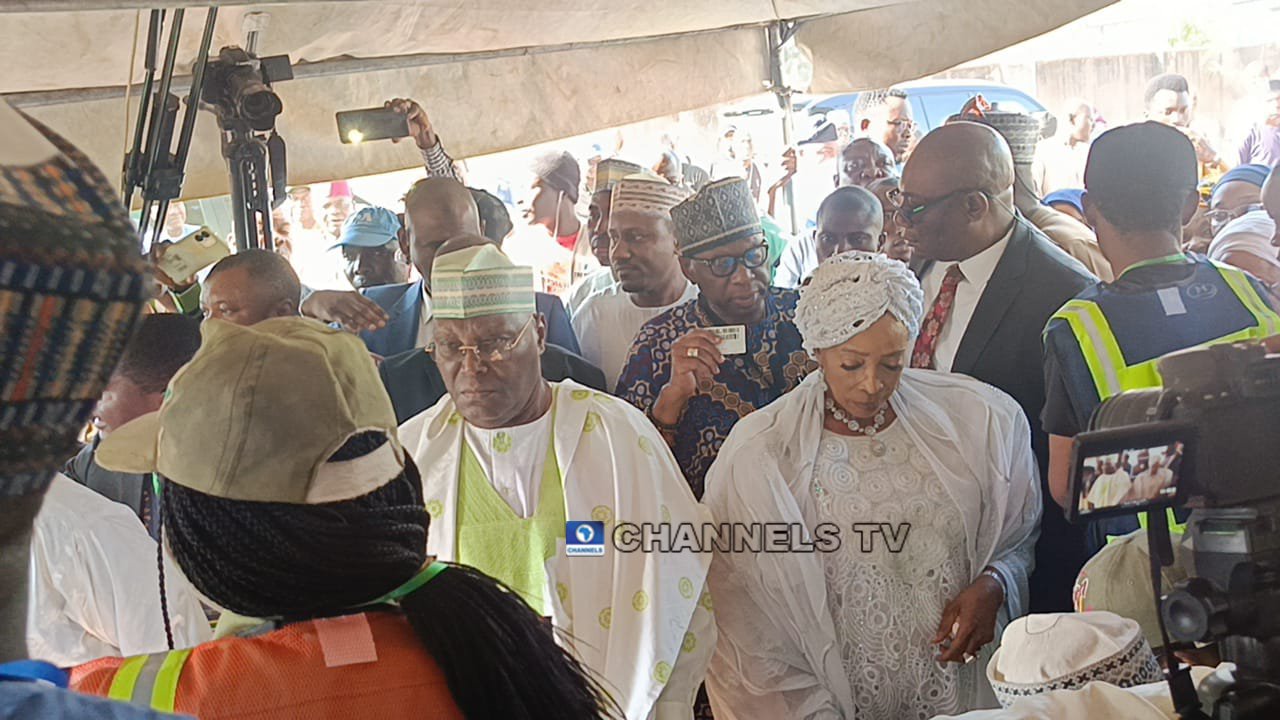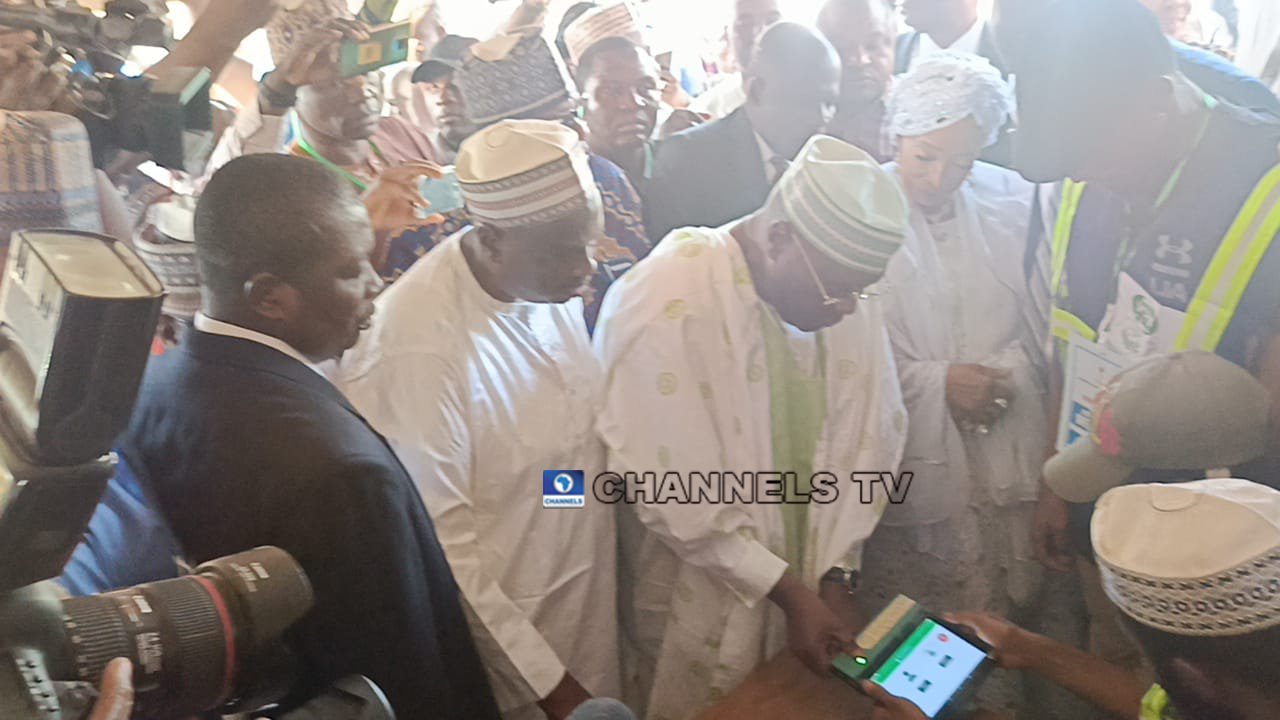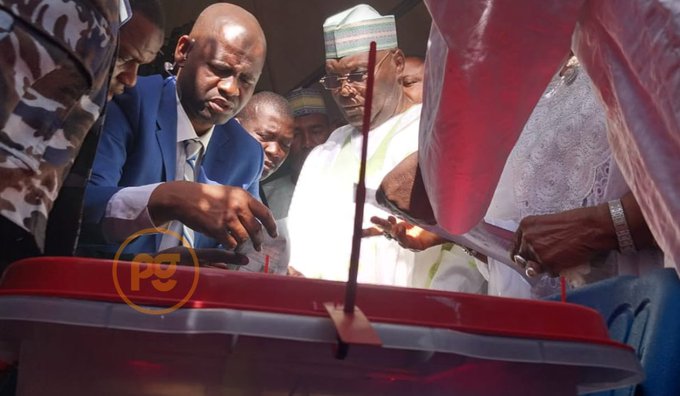 9: 25am: EFCC Storms Tinubu Polling Unit In Alausa
Operatives of the Economic and Financial Crime Commission (EFCC) stormed the polling unit of the Presidential Candidate of the All Progressive Congress, APC, Ahmed Bola Tinubu at PU 085, Ward 3, Sunday Adigun, Alausa, Ikeja, Lagos State.
EFCC storms Tinubu Polling unit in Alausa#NigeriaElections2023 #AITElectionCoverage pic.twitter.com/7OWJRE08jV

— AIT (@AIT_Online) February 25, 2023
10:06 am: No sign of INEC officials/materials at Wike's PU7, Obior/Akpor