Moment residents of Abuja believed to be members of the All Progressives Congress (APC) stormed the Nnamdi Azikiwe Airport to welcome the president-elect, Bola Tinubu after spending a month in France surfaces online.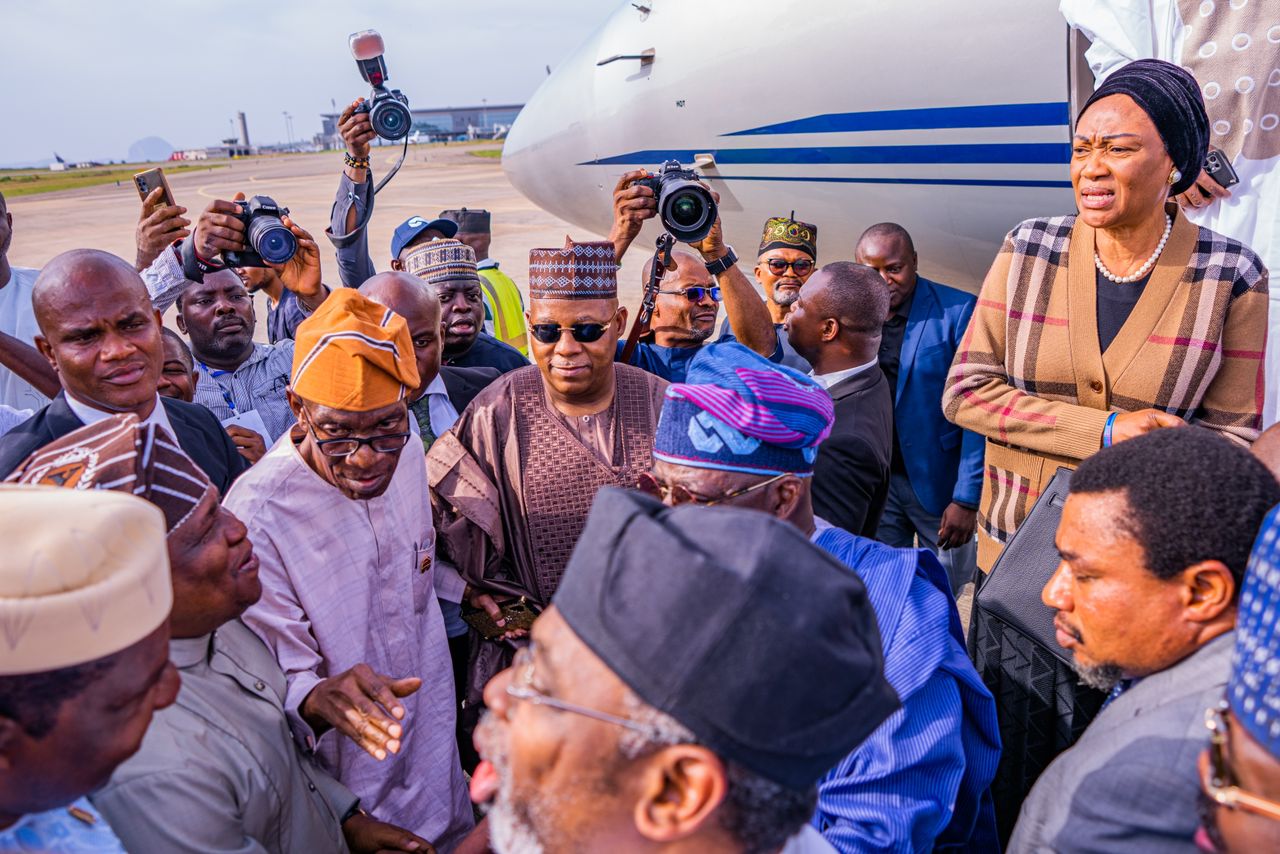 BrandSpur Nigeria earlier reported that Tinubu left for France on March 21 after the governorship election to rest after participating in a rigorous nationwide electioneering campaign, town hall meetings, and the general election.
Tinubu's long absence has led to rumors about his health.
In a series of Twitter posts, the media director of the APC presidential campaign council, Bayo Onanuga said Tinubu was given a rousing welcome at the Airport.
One of the videos captured the former governor of Lagos state being surrounded by a huge crowd, singing and shouting 'On your mandate we shall stand'.
Onanuga wrote: "The big joyous crowd for the President-elect Bola Tinubu at the presidential wing of Nnamdi Azikiwe Airport in Abuja on Monday"
Watch Monent Abuja Residents Welcomed Tinubu At Airport (Videos)
Live visuals from Nnamdi Azikiwe Airport Abuja!!

Mammoth crowd waiting for the arrival of President Elect, Asiwaju Bola Ahmed Tinubu!!!

This one go pain them them o 😂😂 pic.twitter.com/25Rl9hYFNv

— David Offor (@DavidsOffor) April 24, 2023
Nigeria's President-Elect, Bola Tinubu is back in Nigeria after over one month away in Europe. He even landed in the PRESIDENTIAL WING of the airport in Abuja. How far with those who said he was in comma and may be transferred to the mortuary? pic.twitter.com/OBBG0Ibz36

— Michael Zucci. 𓃵 (@MichaelOkwegba) April 24, 2023
Nigeria's President-elect Bola Ahmed Tinubu returned to Abuja after weeks of a well-deserved vacation in France. Welcome home Jagaban Borgu pic.twitter.com/R76iRT273g

— Kamal رحمن (@OluwaKamal) April 24, 2023
https://twitter.com/cbngov_akin1/status/1650542841431568422/video/3
Video
The husband of their Mummy is around.. as the #TinubuOurPresident arrives the Nnamdi Azikwe International Airport, Abuja.#RoadToVilla

Jagaban everywhere 🥰🥰

President Elect / Abuja /Empress Njamah / Keyamo / Rest / Mayor /Nigerians in Sudan / Northerns / Kwankwanso /… pic.twitter.com/s1JZKb01K9

— CBN Gov Akinsola Akin🇳🇬 (@cbngov_akin1) April 24, 2023