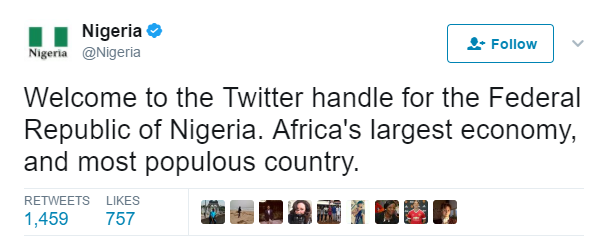 And a coordinating Facebook page!
We don't know who the handlers are for now but we already love the Twitter page and the brilliance with which its first 15 tweets have been handled.
Joining the league of countries like Canada Israel, Ireland and Great Britain who have official verified Twitter accounts, @Nigeria emerged on the platform on June 9.
The first tweet read, "Welcome to the Twitter handle for the Federal Republic of Nigeria. Africa's largest economy, and most populous country."
The coolest detail we found about this account is that it will be run "on a serial basis by different Nigerians" and this is set to be a blast considering how Twitter-savvy many Nigerians already are. We're not sure what the selection criteria will be but one Nigerian will hold the reins of the country per time, thanks to Twitter.
@Sweden has run its account like this over the years and we can tell it's been successful. This week, a certain Swede known as Will has Sweden in his hands and users are seeing the country through his eyes. The country's current bio reads: "A new Swede every week / Australian, evolutionary biologist working in Stockholm. Interests: science, coffee, bright colours, shiny objects." In 2012, the New York Times called it the @Sweden experiment and stated the lesson to learn from what the country was doing with its Twitter: there is no such thing as a typical Swede.
@Nigeria has referenced @Sweden and @ireland as motivation for its Twitter operation style but we hope it really gets the point of a citizen-based handle and stays afloat for as long as its "role models".
We're totally in love with how the current handler set this ignorant Nigerian straight!
There will be many of them and this should serve as a deterrent for stray boys and girls on Twitter.
(Ynaija)