Nigerian songstress, Temilade Openiyi popularly stage name Tems has won her first-ever Grammy award.
Tems won the 'Best Melodic Rap Performance' category on Sunday night for her role in 'Wait for U', the 2022 hit song by Future featuring Drake.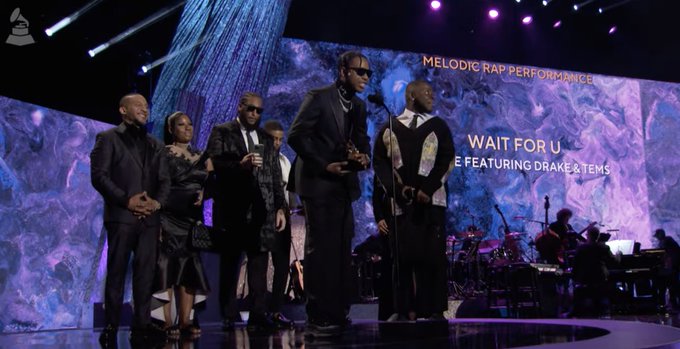 The 2023 Grammy Awards ceremony is currently being held at the Crypto.com Arena in Los Angeles.
Trevor Noah is hosting the Grammys for the third year in a row.
All You Need To Know About Tems
Since 2020 Tems whose real name is Temilade Openiyi, a Nigerian singer, producer, and songwriter has been a force to reckon with in the music industry, and from what we have seen, she has no plans of slowing down.
She is a Nigerian alt-R&B singer, but she continually delves into Soul and Afropop.
The "Try me" singer has had a very lively career, from having several shows sold out, to getting arrested in Uganda. Aside from her career, she also has a very fulfilling life.
Her Early Life
Tems was born in Lagos to her Britain Mother and Nigerian Mother on the 11th of June, 1995. Unfortunately, her parents separated when she was five years old. Her mom brought her up in Lagos. In her early years, she was recognized as a music prodigy as she had terrific vocals, and knew how to play the piano. She also enjoyed singing while her brother played the guitar.
Dowen College was the school that the "Looku Looku" singer attended for her secondary school education. She then went to South Africa to study and graduate in Economics.
Her Rise To Fame
Two years ago, she impressively wrote, recorded, and produced "Mr Rebel". The song gained a lot of approval and praise from social media. The following year, she released the song that would boost her to stardom; "Try me". Today, it has garnered over 4.2 million views on Youtube, and has been played by millions of people on several music platforms.
She released several singles after that, making us bust moves at parties, and use our sport earphones while exercising. She released her first EP in 2020. It immediately became an internet sensation, as it reached an incredible amount of streams in its first week. Now, it has gotten over 2.5 million views on Youtube. Most recently, Wizkid featured Tems on his newest album, "Made in Lagos". Last year, she deservedly got a nomination at the 2019 Headies Award for the Best Female Vocal Performance and Best Alternative Song. Today, Tems has been reported to be worth about $200,000.
Tems' Personal Life
The sensational singer keeps most of her personal life private. This month, she was arrested in Uganda with fellow musician Omah Lay and Muyiwa Awoniyi for failing to adhere to Covid 19 regulations. They were released shortly after, and they accused Ugandan artist Bebe Cool of being behind their arrest.
What's Next For The Talented Singer?
Since she became famous, she has released outstanding music. We have seen several talented artists surface recently, but few of them compare to Tems. Her versatility, vocal power, and confidence are reasons why she could potentially remain at the top for a long time to come. She is already working on new music, and we can't wait to listen!