NNPC Limited has confirmed the full deregulation of the downstream sector of the Nigerian Petroleum Industry with petrol now selling at market price following the removal of subsidy by President Bola Tinubu.
NNPC, in a statement by its Chief Corporate Communications Officer, Garba Deen Muhammad on Wednesday, said pump price at its retail stations have been adjusted.
The statement read, "NNPC Limited wishes to inform our esteemed customers that we have adjusted our pump price of PMS across our retail outlets, in line with the current market
realities.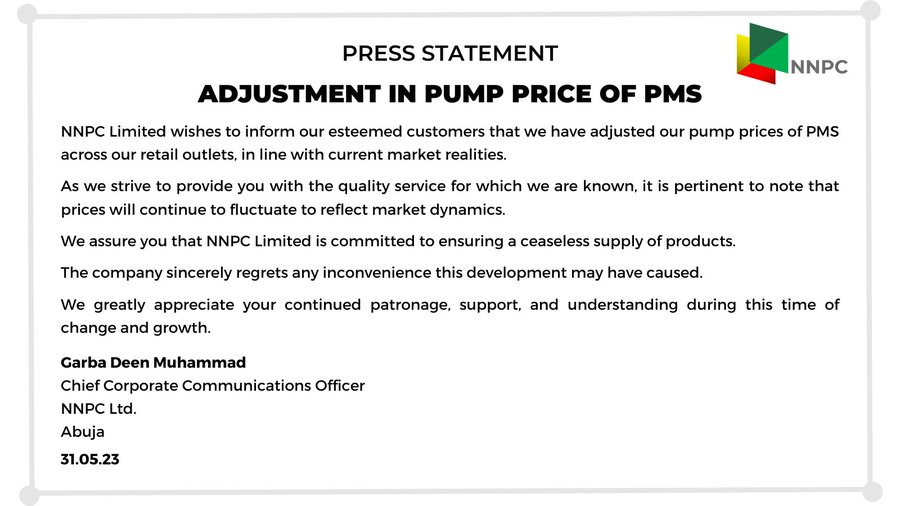 "As we strive to provide you the quality service we are known for, it is pertinent to note that prices will continue to fluctuate to reflect market dynamics.
"We assure you that NNPC Ltd. is committed to ensuring ceaseless supply of products. The Company sincerely regrets any inconvenience this development might have caused.
"We greatly appreciate your continued patronage, support and understanding
through this time of change and growth".
However, PMS sells for between N480 and N500 per litre in Lagos while in Abuja City centre and surrounding areas showed that while NNPC retail stations have raised their prices to N537 per litre from N195 per litre, major and independent marketers dispensed at N540 per litre.