THE NEW BREED NETWORK (TNBN) is set to host youth on a public discourse on equipping the younger generation and inspiring them to become Africa Role Models (ARM) despite all the challenges and provide a platform for networking at the maiden edition of  GET A HEAD-START Youth Conference coming up on the July 13th, 2018 at the ODUDUWA HALL, OAU ILE-IFE.
THE NEW BREED NETWORK (TNBN) is an initiative and movement of over a decade and a half. It has evolved over the years touching and transforming lives in all spheres. This dream is all about building a borderless nation by touching one person at a time.
According to the Convener, Idowu Olanrewaju Oladiamonds, "this dream was birthed while in school with the involvement of like-minded people – Men and women of like passions and values. It was a platform that provided alternative Leadership to the students when it was needed most. We succeeded, left footprints and raised a banner of reference for generations after."
Speakers at the conference: 
DEOLU AKINYEMI – CEO NairaHost & Sought-after Business Development Expert
REMI DAIRO (Mr Productivity) – President, Institute of Productivity and Business Innovation Manager (IPBIM) & Mr Productivity
CRYSTAL CHIGBU (The Hope Catalyst) – Executive Director, Irede Foundation
Amb TOSIN SANUSI – Special Adviser to the President ECOWAS Youth Council / Founder Edubox
OMOTOLA FAWUMI – Director, Project STRETCH & Girl Empowered
The conference will feature presentations, in-depth plenary sessions, questions and answers and resolutions, spoken word, poetry, amongst others.
The goal of TNBN is to equip the younger generation and inspire them to become Africa Role Models (ARM) despite all the challenges and provide a platform for networking amongst youths. We are developing talents fit-to-lead various marketplaces. History beckons on us and we have here to be part of the solution.
We are igniting a positive movement and inaugurating TNBN in OAU. We are surely taking this message and movement to other institutions, nothing stopping us.
We want to produce generations of well-schooled youths who are solution providers in various marketplaces, not just graduates. We have come to accept that just being a student is limiting, living our dreams is more fulfilling.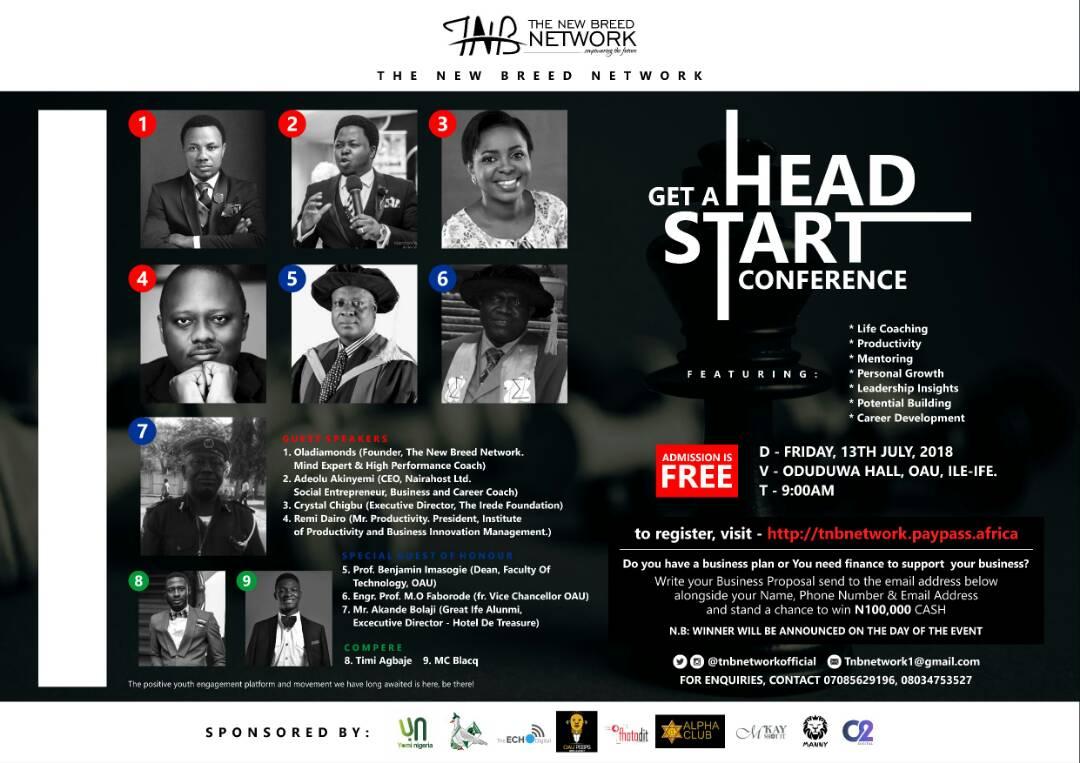 In the next 5 years, we want to build the largest platform of youth network in Nigeria, according to Diamond.
TNBN was founded by Idowu Olanrewaju Oladiamonds who later became the Student Union President of prestigious Obafemi Awolowo University. He is a sought-after Speaker, Socialprenuer, People Manager, HR and Mind Expert with over a 10 years' experience in a foremost multinational company working in several locations in Nigeria and Europe. He is married with two Kings.
Follow us on Twitter and Instagram: @tnbnetworkoffical
Mail: tnbnetwork1@gmail.com
Phone: 08034753527